OUR CHAT WITH MADOKA RINDAL

With this new global situation in mind we thought to set up a small series of interviews with
some of the designers, brands and creative people Agnes & Maurice is collaborating with.
It may be only a small gesture towards the problems that are at stake but
we sincerely hope it will bring us all closer together.
We are very happy to introduce to you:
ceramicist, Madoka Rindal
She lives and works in Paris and is raised in Japan. At the age of 18 she leaves Tokyo for Paris.
Her beautiful ceramics are linked by the inky blue hand painted faces and eyes, bringing life and character
into each one of her pieces.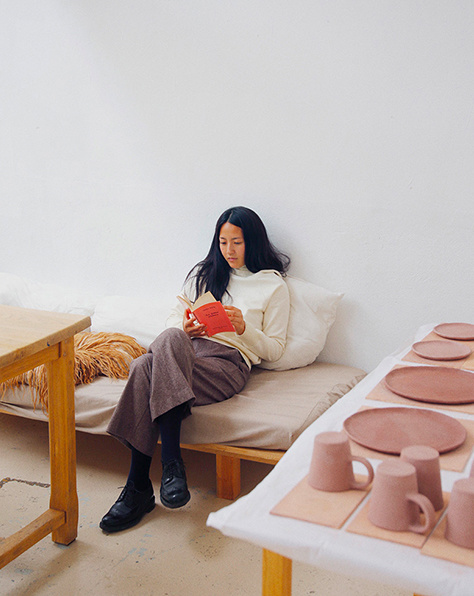 Hi Madoka,
How are you? : )
-

What inspired you into working with ceramics?
Are you self-taught or have you learned it from someone else? & how long have you been designing your ceramics?
I grew up with japanese ceramics that my parents have collected, it was not a big collection nor anything luxurious but it had a particular taste that I always appreciated.
As a grown up I have always been attracted by the idea of making ceramics, but I didn't have the chance nor time before 2013, when I first started to take evening classes close to Buttes Chaumont in Paris, I was on maternity leave and I felt like it was the right moment.
First year was mostly just discovering different techniques and clays, second year I started trying to put
more of myself,
that's when I first started drawing faces on the ceramics.
You were born & raised in Japan - Tokyo , this must clearly (as we can see) have a big influence on your work. But how does it translate into your work?
I come from a country where traditionally we believe that plants, rivers, objects or places have a spiritual essence, old trees for example are considered as sacred.
I wanted to translate that idea of animistic objects in my ceramics.
-
Could you describe the magic of your design process, from idea to a finished product?What kind of materials do you use?
Ideas can come from anywhere, my everyday life, a book, an exhibition, a memory…
I mix all the information in my head like in a shaker and try to draw forms on a paper first, and then try it on clay, sometimes it works, sometimes it's better on paper, so I have to adapt the idea on the clay. I use stoneware that I hand build.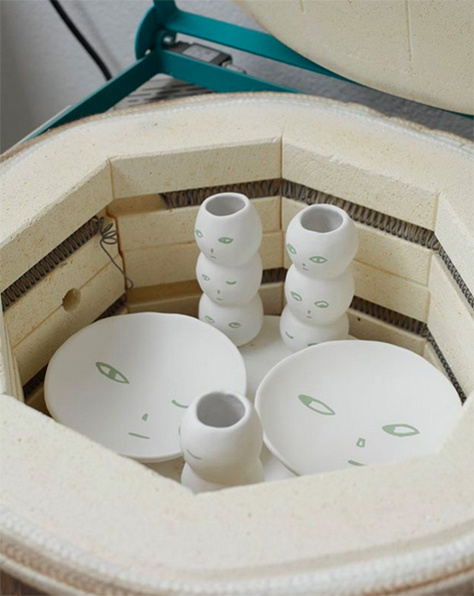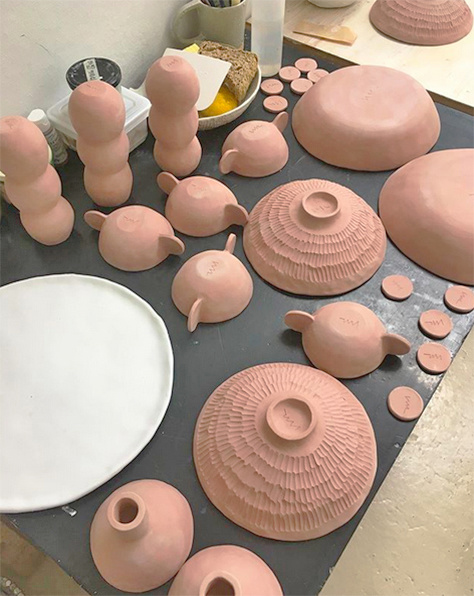 The process of doing ceramics is known to be very meditating. What is on your mind when you are shaping the object?
It is very meditating, but speaking for myself it's closer to daydreaming than to meditation, because when you meditate you're supposed to empty your head, just be there. I have thousands of thoughts going and coming the whole time. A little bit like when you're doing your dishes.
-
Do you listen to music while making your ceramics? & what kind of music? (favorite artists, genre,..)
It happens but I mostly work in silence, it's already so noisy in my head, but if I want my inner voice to be quiet ,
I listen to the radio, France culture, you can learn so much by doing nothing but listening to that radio station,
it's incredible.
If I listen to music, among different kind of music that I switch from one to another,
there is one album that I always come back to, which is "Blue" of Joni Mitchell.
-
How important do you see the act of creating handmade goods in this day and age?
First of all I find it very comforting to be able to create something with my own hands.
In the digital era we are living in, we are always asked to deliver our product faster and faster but ceramics needs certain time and we can't cut the process, and it's moving to realize that the process of pottery hasn't changed much since its beginning thousands of years ago.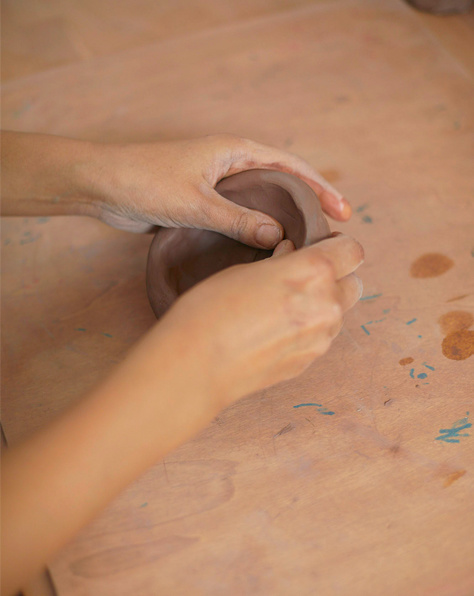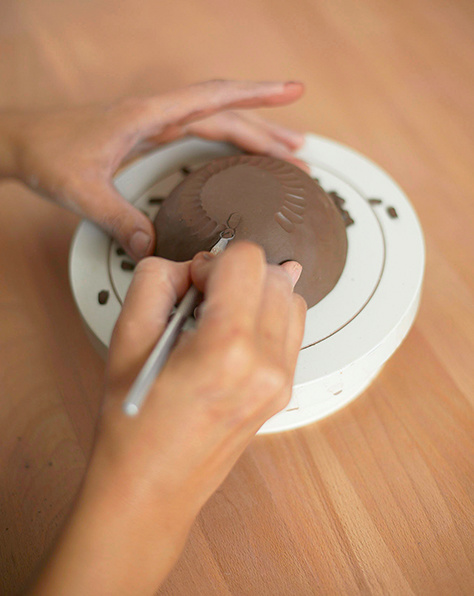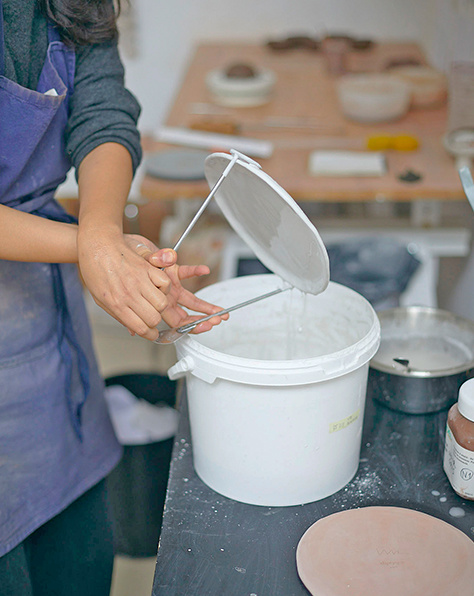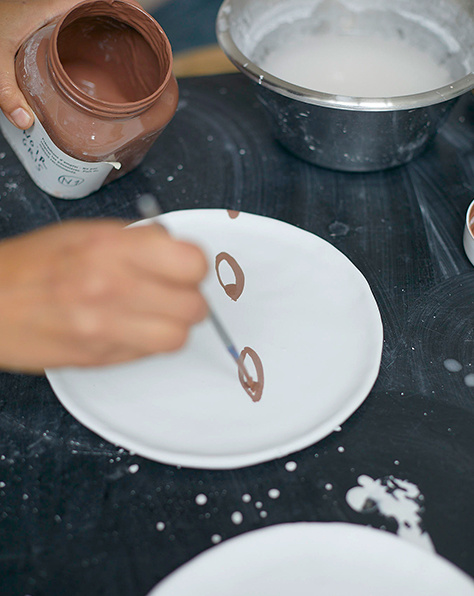 -
Do you currently have any projects running?
I am preparing a new exhibition in Japan in May and in Norway in June.
(hopefully I will be able to make it!)
-
Are there any new techniques you would like to try in the future?
I would love to dig my own clay in the ground, try ash glazes and also build a wood kiln!
-
As this may be interesting since we are all inside our houses now, What is your favorite room in your house? Where do you love to spend most of your time?
I like to be sitting by the dining table, you can almost do everything there, eat of course, work, draw, sit with the kids to do home schooling, fold your clothes, drink coffee, relax and look out of the window, scroll your phone for hours, or just sit there do nothing…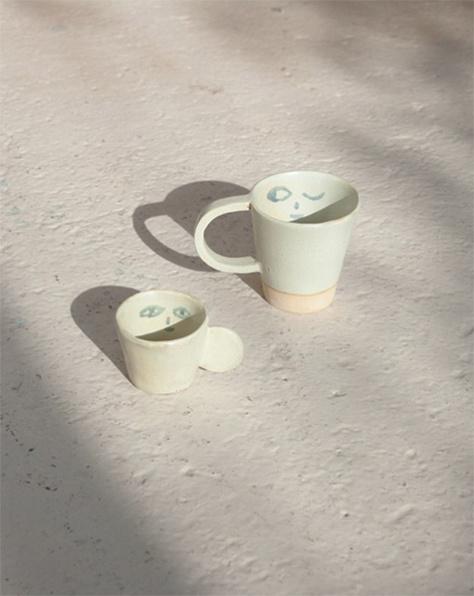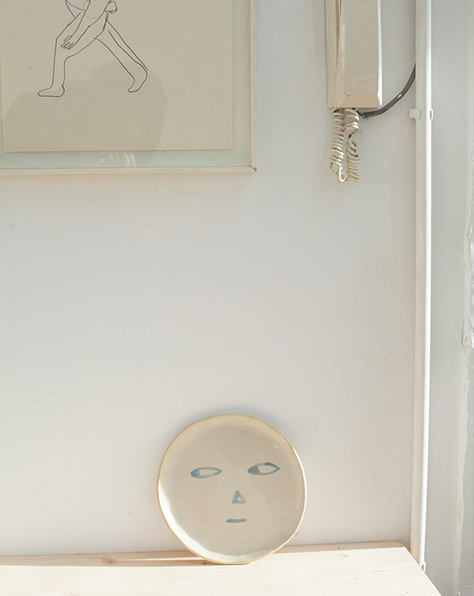 -
What items do you always have in your fridge? :)
I have a family with 2 kids so my fridge is always full…
lots vegetables, butter, milk, cheese, eggs, miso, soy sauce, all sorts of condiments, my husband bak
es his own bread so there are alway
s a small jar of sourdough, kombucha and its scobies…
-
For the people reading this who are quarantined at home, could you recommend us a book, film,album, podcast or series?
Podcast: I'm a big fan of the program "Les pieds sur terre" if you know French. English speakers can try "This American Life" from
which the program was greatly influenced.
It's like having a little window in your home that connects to other little windows in the world.
Book: any novel by Stefan Zweig,
serie: Terrace house
film: I just watched "Princess Kaguya" with my 6 years old daughter and we both loved it.
Thank you so much for your time Madoka , We wish you all the best !!!
Thank you so much to both of you!!!
Lots of love!
CLICK ON THE PICTURE BELOW TO FIND MADOKA RINDAL'S CERAMICS IN OUR WEBSHOP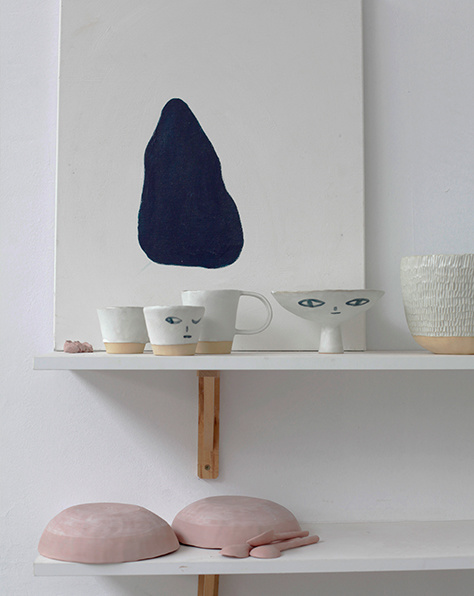 pictures by: Orla Rindal , Osma Harvilahti